Posted:
March 21st, 2017 |
Author:
Malla Poikela
|
Filed under:
Industry Insights
|
Tags:
Analysys Mason
,
Data Refinery
,
Digital Customer Journey
,
digital transformation
,
FASTERMIND
,
intelligent mediation
,
mediation software
,
MONETIZER
|
Comments Off

on Analysys Mason Recognises Comptel Among World's Top Mediation Players
The analyst firm Analysys Mason has released a new Comptel Company Profile, recognising Comptel as one of world's leading data processing vendors. The report also lists our DATA REFINERY software suite as a top-six mediation solution when ranked by worldwide marketshare.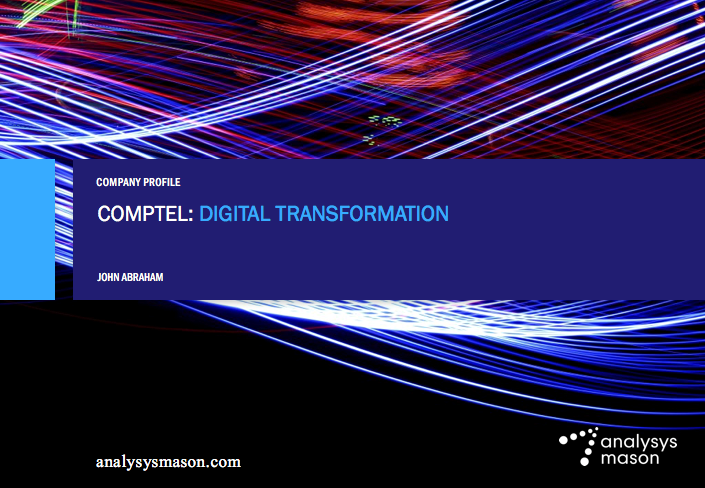 The report, titled "Comptel: digital transformation," analyses Comptel's overall product portfolio, 2015 financials and strategic direction. DATA REFINERY is based on Comptel's award-winning EventLink technology, providing a software suite for convergent mediation, roaming management and enterprise data processing software products. It provides a comprehensive and productised data integration solution with over 1,000 off-the-shelf online, real-time and offline interfaces.
Across the world, 150 operators trust Comptel's data processing to turn massive amounts of raw data into valuable, purpose-driven, real-time actions. Operators of all sizes and volumes rely on DATA REFINERY, including India's Bharti Airtel, Indonesia's Indosat, Argentina's Telefonica, Saudi Arabia's Mobily, Denmark's TDC and The Netherlands' Ziggo. In all, Comptel processes more than 20 percent of the world's mobile usage data through our software solutions.
DATA REFINERY plays an important role in supporting the Digital Customer Journey, which is all about applying better technologies and data-driven business strategies and models to improve the way telcos engage and serve their customers in a personalised and contextual way.
Within that journey, DATA REFINERY provides a layer of intelligent fast data to enable real-time decisions and actions. The software has the capacity to capture and process vast amounts of raw data in-stream. As a totally vendor, technology, and service agnostic solution, DATA REFINERY captures data of any type and from any source, including social media, apps, connected devices, networks, locational data and services. It then refines that data with important contextual information and sends it on to the next stage of its journey – all in real time.
As a result, DATA REFINERY allows telcos to build a 360° profile of their customers based on diverse data sources. That profile is then available for other business systems, allowing telcos to craft intelligent, individualised service offerings, customer programs and more. Additionally, DATA REFINERY hides all technical complexity between the network and OSS/BSS layers through a unifying processing layer.
To provide a perfect, personalised Digital Customer Journey, DATA REFINERY's intelligent data fabric works seamlessly with two other pillars of that journey: FASTERMIND™ for customer engagement automation and MONETIZER™ for agile service monetisation. All three software suites rely on the same EventLink technology platform, benefiting from common capabilities such as a broad online and offline interface library, programmed and automated fast data processing, operational intelligence, business and operations reporting and a Software Development Kit (SDK).
Together, the solutions within the Digital Customer Journey help telcos take advantage of a rapidly changing landscape, one in which the customer is in control. Our solutions allow telcos to compete and win on the basis of customer engagement, with personalised and contextually relevant content, offers and services.
We're proud to be recognised by Analysys Mason alongside other top players in the mediation market. To learn more, download "Comptel: digital transformation," a company profile from Analysys Mason.
---