Posted:
November 11th, 2015 |
Author:
Ari Vänttinen
|
Filed under:
Events
,
Industry Insights
|
Tags:
Nexterday North
,
Operation Nexterday
|
No Comments »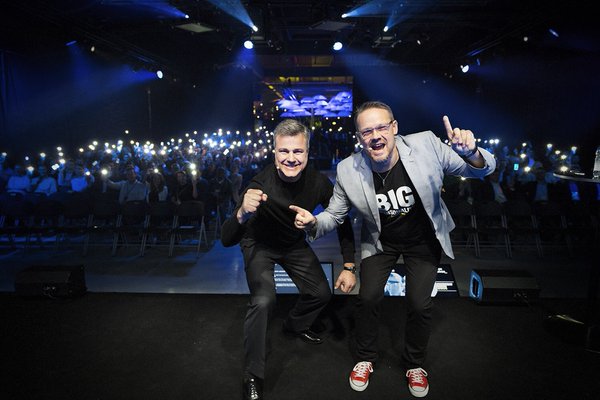 Although Comptel's inaugural Nexterday North has wrapped up, post-event enthusiasm hasn't faded at all. Take a few seconds to scroll through comments on our official Twitter hashtags – #Nexterday and #NexterdayNorth – and you'll get a sense of the massive number of ideas and insights attendees were able to gain over two inspiring days in Helsinki.
As our CEO Juhani Hintikka said in his closing remarks, we are grateful to all of the partners, colleagues, speakers and guests who helped make our first antiseminar such a success. Plenty of blogs and articles have already been written recapping Nexterday North – check out the links at the bottom of this post for some of those – but here's three of our own parting thoughts from the first Comptel anti-seminar.
There is Hope for Humanity
Those were the words Juhani used to describe Day 1 of Nexterday North, and it's easy to see why. Our first day's presenters offered a hopeful message of perseverance, potential and positive transformation.
Futurist Patrick Dixon's energetic presentation taught us that emotion is the single most important driver of the future of technology, business and culture. Successful businesses remember that and seek to satisfy their customers on an emotional level. WIRED's Gregg Williams shared a similar take, saying "It's just as important to take bad things out of people's lives as it is to add good things."
Riisto Siilasmaa's candid talk on Nokia's business transformation had the crowd buzzing, and he offered a compelling walk-through of how he helped lead the company through one of its most challenging time periods. It was an inspiring lesson for the crowd that even in difficult times, there is always hope if you can commit to change.
Customers Drive the Future
A consistent theme through every session – and especially on Day 2 – was the importance of putting customers at the centre of business strategy.
Our moderator, Ville Tolvanen, hosted a fascinating fireside chat with T-Mobile's Milan Ruzicka that explored the company's popular customer-centric Uncarrier movement. In a panel discussion Smart Kalasatama's Veera Mustonen suggested that business transparency earns customer trust, while Tele2's Lars Torstensson explained consumers' desire to set their own service terms.
Of course, you need strategy and structure to put customers at the centre. SoftBank's Ted Matsumoto offered a compelling business model to help operators fine-tune to customer needs. We also heard from experts on the data, service architecture and monetisation strategies that will play a vital role in operators' business transformation.
It's Time for New Ways of Thinking
Many of the presentations also focused on the new service opportunities available to operators, from app development to smart cities to digital servies.
VentureBeat's Stewart Rogers described new insights into hyper-personalized marketing that could deliver richer customer engagement. Futurist Rohit Talwar suggested a business pairing – experienced workers with younger ones – to balance the need for structure and discipline with the desire to innovate. And storyteller Linda Liukas advocated that children today could be the next generation of innovators if we make learning about technology fun and exciting.
Nexterday North was an exciting and inspiring event with more than a few surprises, including the launch of Comptel's FWD app, which we believe will change how operators sell and market mobile data forever. Ultimately, Nexterday North proved that when you think differently, you uncover ways to make the world a better place for everyone.

Read more about Nexterday North below:
How Nokia's chairman demanded €2bn from Steve Ballmer
Telcos need to emulate SoftBank & decouple network / services businesses
Look to the future to survive disruption
Hackers' Advantage Over Security Professionals: A Willingness To Share
Time Based Mobile Internet Data Purchase Finally Arrives
Forget Big Data, use "Little Data" instead
---