Posted:
October 23rd, 2015 |
Author:
Malla Poikela
|
Filed under:
Events
|
Tags:
digital buying experience
,
innovation
,
intelligent data
,
telecom
|
Comments Off

on 3 Keys to Digitalisation's Future from IBM Business Connect 2015
The theme for last week's IBM Business Connect event in Helsinki was "Seize the Moment." Acknowledging the rapidly shifting business environment and ever-increasing consumer demands, event speakers encouraged attendees to get off the sidelines, rapidly build their skills and proactively seek out new ideas to transform their businesses for a new post-digital era.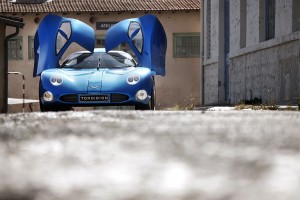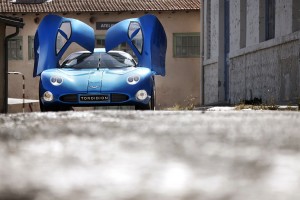 A number of business leaders, technology experts and futurists presented inspiring talks on their vision for the future of digitalisation, but three keynotes stood out most prominently. The first involved a view of the futuristic technologies businesses will require to push themselves forward, the second stressed the importance of pushing boundaries, and the third encouraged businesses to accept what they don't know and focus on improving the post-digital buying experience, mirroring what Comptel has said on the topic of Operation Nexterday. Here's our recap.
A Peek at IBM's Post-Digital Cognitive Era
IBM has positioned itself as a frontrunner in the "cognitive era," characterized by a new capability that the tech giant believes companies will need as they move further, and even beyond, the digital era. In his keynote, IBM's Juha Teljo, who leads European sales for IBM's business intelligence and predictive analytics technologies, described why cognitive abilities will be the next significant technology for forward-thinking companies.
Cognition, Teljo explains, will allow businesses to understand, reason and learn much in the same way that humans do. Rather than rely on static data for business decision-making, IBM believes the next generation of business intelligence will offer predictive, machine-learned insights through cognitive technology.
This echoes Comptel's thoughts around operators' need for intelligent fast data, which drives real-time, automated and contextual marketing, in-the-moment analysis and instant revenue opportunities. Given the speed at which consumers make decisions and demand results, cognition and machine-learning capabilities will be crucial tools moving forward.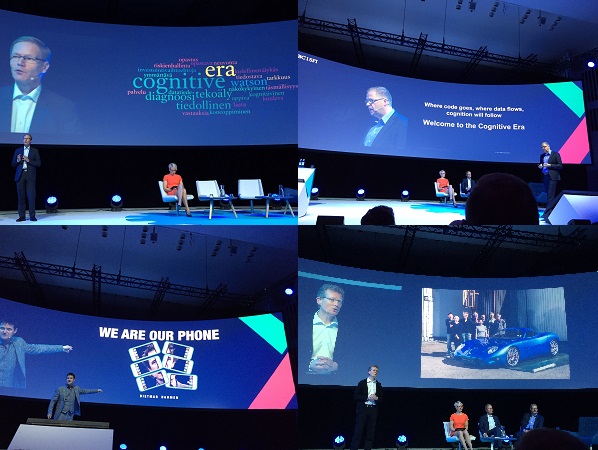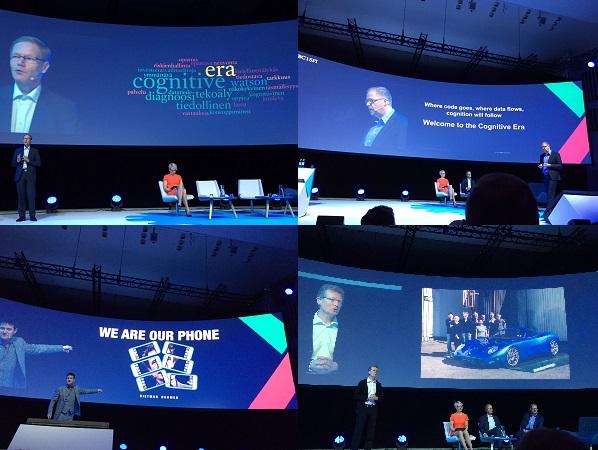 Toroidion's Pasi Pennanen on Pushing Boundaries
It takes imagination to create big ideas, but to accomplish them takes "the next level of courage," as Pasi Pennanen's Toroidion project shows.
One might say that Pennanen has plenty of both, and in his keynote he shared his truly fascinating story of how he applied imagination and courage to make his dream of an electric vehicle reality. Pennanen is the creator of the Toroidion 1MW concept car, an eye-popping 100 percent electric sports car with 1,341 horsepower – making it one of the most powerful cars of any type in world.
Pennanen explained how he dreamed of becoming an industrial designer for cars since he was a child – a perhaps atypical ambition for a Finnish youth, but nonetheless one he pursues to this day with the dogged belief that anything is possible. He originally designed the Toroidion to compete in the famous Le Mans 24-hour road race, but now says he envisions his cars eventually being mass produced for everyday consumers.
To achieve that goal, he and his company will need to overcome a great number of challenges and obstacles, but Pennanen is driven to push boundaries in product development and design. It's a model any business – but especially operators faced with a rapidly evolving telco landscape – should follow.
Futurist Dietmar Dahmen on Accepting the Unknown, Loving the Unknown and Embracing the Unknown
Right now, most operators acknowledge that they are surrounded by a significant number of opportunities coming from all sides. Whether they want to re-engineer their infrastructure for better flexibility and agility through network functions virtualisation, enhance their analytics capabilities through machine-learning technology or design imaginative service plans at warp speed that pique consumers' interest, there are no shortage of options to revolutionise one's business.
The challenge is, many operators don't know which opportunities are right for them or how to proceed. There's plenty of uncertainty surrounding these decisions, but in his keynote at the event, futurist Dietmar Dahmen expressed why it is important for businesses to accept and even embrace the unknown. As he explained, change is what makes us strong, and though it may feel comfortable to stay within the status quo, businesses must understand that to be a superhero in their industry, they must feel good about breaking rules, thinking exponentially and acting on their potential.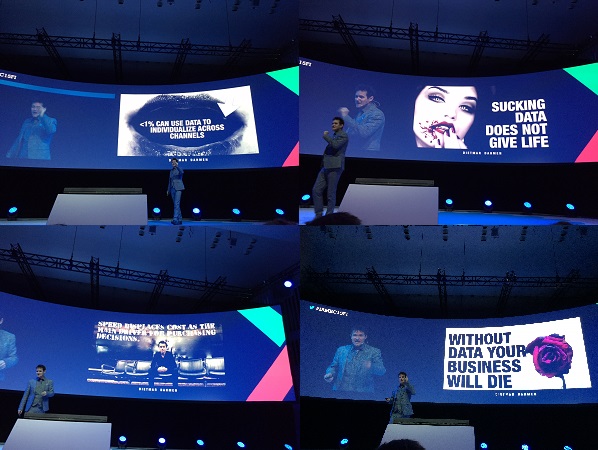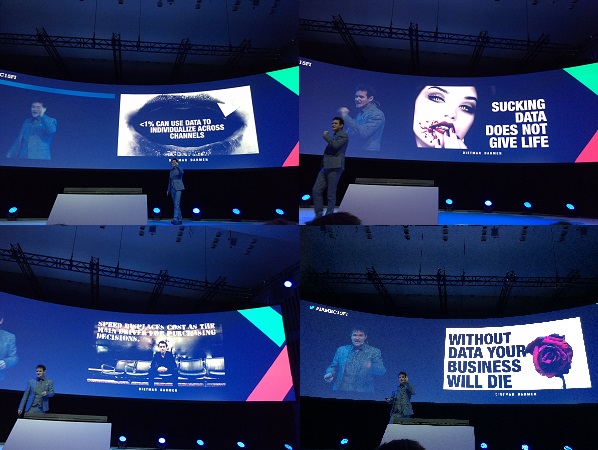 "Without Data Your Business Will Die"
In the digital and cloud era we're online and connected pretty much 24/7. Dieter Dahmen's statement 'We are our phone' is spot-on to describe our behaviour. Life is truly a chain of digital moments, but businesses are not able to respond to the opportunity that customers' passive and active digital footprints allow. More than ever, it's critical to leverage personalization and contextuality to deliver the right content to customers in the right moment. Unfortunately most organizations fall short, as "only 1 percent of companies can use data to invidualise across the channels," according to Dahmen.
The consumer buying process is the most transformative experience industries need to deal with in the future. Pace is at the heart of it: our new generation of customers are impatient, want options and don't like to wait. Dietmar Dahmen described it by saying "speed displaces cost as the main driver for purchasing decisions," which makes moving at the speed of the internet a "life and death matter" for operators. But it's very clear that at telco speeds, operators will struggle to satisfy clientele.
That's a message Comptel shares: to break out of the collective industry blind spot and leverage new avenues of growth and revenue, operators must overcome their fear of the unknown and embrace out-of-the-box thinking. It's the only way forward in Nexterday.
Register to join hundreds of progressive thinkers, industry experts and innovative operators at Comptel's inaugural Nexterday North, 9-10 November. By purchasing a 2×2 Front Pass, you get full access to both Nexterday North and the startup conference Slush.
---