Posted:
April 12th, 2016 |
Author:
Joakim Knutar
|
Filed under:
Industry Insights
|
Tags:
big data
,
ETNews
|
Comments Off

on Buzz at the ETNews Big Data Seminar
ETNews organised a Big Data Seminar in Seoul on 22-23rd of March. Several hundreds of experts from the Big Data field came together to hear about great ex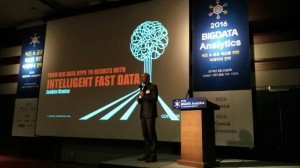 amples and technologies, and to share experiences. Comptel had the pleasure of joining Team Finland with a speaker slot together with IOT specialists BaseN and Wirepas.
So what created most buzz?
Nokia had the opening keynote talking about internal and external data, and how all data should be used to improve predictions. Interesting IOT areas were energy, digital health, and connected cars. Also emphasised was privacy and how all connected devices will bring further challenges when it comes to privacy matter.
A very interesting keynote was given by famous designer Youngse Kim. He explained how it will be difficult to drive consumer value out of data unless you have Big Design. He explained how consumer design is all about predicting and how this focus on big data will drive momentum into the design-space as well.  Mr. Kim further noted that big data and IOT will only be commercialised because of Big Design. New industries will emerge. The design will be at the center of new business for companies who succeed. A good example were two designers who wanted to design hotels, but went on a sidetrack and created Airbnb.
The retail side was represented by Tom Spencer from dunnhumby. Key takeaways were how they use big data to create loyalty, and the need for a Chief Data Officer in every organisation. He also showed how everyone need to climb the analytics capability ladder before they will truly be able to turn data into value.
With the growing complexity of data gathering, analysis, and exchange we cannot but agree with Mr. Spencer on the fact that most organisations today lack a person in charge of a good vision for big data and strategy.
ShinhanCard showed very interesting figures and examples on how they have been able to grow their business with big data. With 22 million members they discovered that they needed to segment their customers and create segment specific credit cards. Today they have 11 different cards. They also talked about how they used real-time data to help the government at the time of the MERS outbreak last year. Or what do you think about analysing how far people are willing to travel for cheaper products? Or using mobile phone credit rating data to give loans?
Another hot topic to be noted was real-time analytics. Most of the presentations had some degree of real-timeless in them, and it was great to see that Comptel is not the only one who have realised that the best way to value from data comes from Intelligent Fast Data.
I had the honor of presenting Comptel's Intelligent Fast Data and how to get value out of data using real-time analytics and actions. Our Nexterday was, of course, part of the story, and it is interesting to see that Nexterday is really cross-industry. Not only for Telco, but for IT in general and any industry who need to serve their customers better. Remember, focus your customer, not customers.
It seems that contextuality is really picking up. Meaning that it is understood that data is most valuable when it is fresh and used at the moment. This becomes even more critical when moving into IOT. So the question is: Is your infrastructure equipped for Nexterday?
As part of the Team Finland delegation, we also had a chance to have separate meetings with many interesting companies. Truly inspiring to see what is going on in Korea and the potential that is there. To be continued…
---