Posted:
April 19th, 2016 |
Author:
Malla Poikela
|
Filed under:
Events
|
Tags:
Monetisation
,
policy control
|
Comments Off

on Policy Control Conference 2016 Recap: Innovating to Enhance the Customer Experience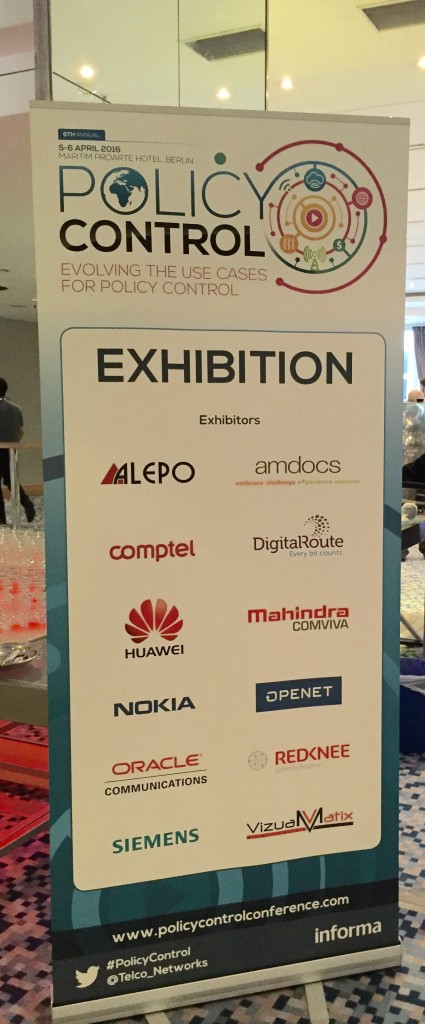 Policy control cannot be seen as a standalone function any longer. It needs to be combined with charging and predictive analytics to give customers the best, most contextual and personalised service experience. At the same time, effective policy and charging control also gives operators the flexible and agile tools they need to monetise data services. That was one big takeaway from the Policy Control Conference 2016, which bills itself as the world's only event exclusively dedicated to the policy control market.
Nearly 200 policy control enthusiasts from 80 organisations gathered at Berlin's Maritim proArte hotel from 5-6 April to learn about the latest and greatest developments in the field of policy control. The entire policy control ecosystem was represented, with scheduled presentations from solution vendors, operators and industry analysts. Executive speed networking, operator-hosted lunches, analyst breakfast roundtable briefings and operator and vendor dinner also offered plenty of opportunity for interaction.
Comptel was in attendance as a sponsor, and we also hosted "The Seven Deadly Sins of Policy Control," a session with our VP MONETIZER Simo Isomäki and our VP Solution Architecture Martin Vieth. We highlighted the defective, broken aspects of policy control that needed to be corrected as operators evolve toward a modernised and future-proof policy environment. At the event, attendees heard how operators are addressing challenges like time to market, increasing customer experience demands and the introduction of virtualised functions into the network through innovation policy control management. Here are several big takeaways from the event.
Complexity Slows the Speed of Innovation
Network agility is crucial to delivering the flexibility operators need to achieve a higher speed of service creation, which is a valuable asset at a time when monetisation opportunities crop up at a moment's notice. However, overly complex telco networks slow everything down, making it difficult or in some cases impossible for operators to configure and launch new services fast enough to attract customers at their peak moment of interest.
Simo and Martin explained that the blame lies with complex and scattered network architecture and management, which kills innovation. As a result, many operators are "dead slow" – 69 per cent of CSPs say launching a new product or changing a product takes too long, according to Heavy Reading. The right environment and toolset could speed things up by giving operators a single view to create and change products and allow for service creation experimentation. Operators should strive to innovate when it comes to service pricing, add-on apps, data bundle configuration, delivery speed and more to appeal to digitally savvy customers.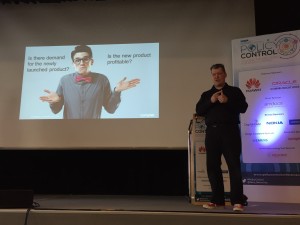 NFV and Policy Control
Network functions virtualisation (NFV) is, naturally, one key area of innovation affecting policy control. PCRF is often one of the first network functions to be virtualised as operators seek to respond quickly to changing market conditions.
Many telcos in attendance acknowledged the benefits of NFV, including its ability to drive a 95 per cent improvement in service cycles, outweighed the potential challenges of implementation. Presenters argued that policy control and analytics should be tightly integrated with network and service orchestration, delivering service and customer awareness to the NFV and SDN network.
At the same time, the Comptel presentation emphasised simplicity above all in NFV implementations. Operators are striving towards NFV – one said "If you don't do NFV, you'll be left behind". In our session, Simo and Martin advised a hybrid approach in which brand-new NFV infrastructure and legacy environments work in cooperation to maintain simplicity.
Analytics Enables Better Service Experience
Another major theme at the show involved the central role customer experience should play in policy and charging control management decisions. For example, moving away from the idea of standalone policy control and toward a vision for natively combined policy control, charging, predictive analytics and real-time business reporting helps operators deliver a better and more targeted end-to-end service experience.
One operator described how they currently analyse customer usage behaviour and patterns with a Big Data cognitive learning analytics platform. Using that data, they can guide their policy engine for example to offer the best service with the most attractive apps to customers. Predictive analytics also informs service testing, so that operators can test and affirm a new services' success before launching it publicly.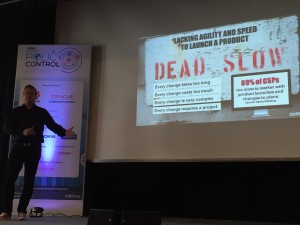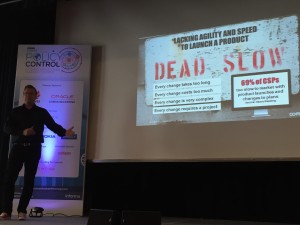 The Customer is at the Centre of Service Experience
Forward-looking service creation puts the customer at the centre by selling services the way buyers want. As Fredrik Jungermann explained at Nexterday North 2015, customers buy data by the bundle today only because that's the way operators choose to sell data, but that doesn't mean it's the only way or the perfect way to sell data. Rather than simply selling data on a small, medium, large or extra-large model, Simo and Martin advocated a model where data is flexibly bundled with attractive over-the-top (OTT) content services to appeal to the customer's preference.
Additionally, there were discussions around the importance of offering consistent mobile service experience no matter the customer's location. Presenters argued that there is value in policies being access-neutral whether a customer is on fixed internet, mobile data or a Wi-Fi network.
Similarly, operators could change the way the allocate bandwidth per application to improve service experience. Twitter and Netflix, for example, don't need the same bandwidth speeds to run successfully, but that is currently how those apps are supported by many internet service providers. Why not flexibly support apps with an appropriate level of bandwidth, reserving the best speeds for live streaming videos?
Ultimately, that's how operators and the industry need to think about policy control moving forward. The customer should always be at the centre of any major innovation in the network or otherwise, so an evolution in policy and charging control should likewise focus on improving the customer experience. Since complexity is the enemy of innovation, operators will need to only consider transformation that can make things work more simply and quickly.
Learn more about the tools how to monetise more in less time: Download our whitepaper about the MONETIZER™ or register to our MONETIZER™ webinar or click to read about our MONETIZER™. To keep up on the latest news and discussion topics, please join our Magazine and Reader Community in nexterday.org.
---