Posted:
September 28th, 2016 |
Author:
Steve Hateley
|
Filed under:
Industry Insights
|
Tags:
customer engagement
,
Generation Cloud
,
personalized customer journey
|
Comments Off

on Enabling the Personalized Customer Journey
Have the rules changed for Communications Service Providers to engage with their customers?
Digitalization has created a generation of empowered, engaged and demanding "Generation Cloud" consumers. These people want to be treated as individuals through using a service that meets their expectations and aligns to the way they live their lives. They don't want to follow service providers' rules but instead, define the digital market as they want to see it. Service providers have to identify product opportunities, then design and commercially publish new service offerings faster than ever. Only then will they be able to seize the increasing new opportunities for data, content, applications and service monetization. Effectively they have to monetize more in less time, whilst leveraging partner offerings for service enrichment.
How do service providers win the hearts and minds of customers with almost impossible expectations?
To meet the expectations of generation cloud consumers it's no longer sufficient to have a static portfolio of products that a customer selects and uses unchanged for the lifetime of a contract. Lifestyles, demands and expectations create a digital opportunity for providers to continually engage with their customers with contextually relevant enrichments to a base package contract.
These enrichments or upsell opportunities can take the form of traditional data or messaging bundles, however they can now also encompass personalized add-ons such as streaming subscriptions or cloud-storage with a data allowance; time-based video streaming bundles and sponsored enterprise data packages. These modern-day enrichments have to be more understandable by the consumer, as lifestyle enhancements aligned to them.
Service providers have an opportunity to not only create these offerings but intelligently identify when to make a recommendation and with which product. They also have to simplify the engagement and buying process as closed-loop automation, allowing for consistent improvement, alignment and customer retention.
What would the perfect solution look like for CSPs to enable the personalised customer journey?
A comprehensive turnkey solution for the personalized journey will incorporate a number of steps that the customer service lifecycle will take. These steps consist of product creation based on identified market needs, campaign management and commercialization of those products, an ordering process and of course the delivery of a product in the first instance.
Once delivered it's necessary to collect data and valuable information on the consumed service, which when analyzed provides insights to drive the intelligent recommendations required for next customer contact via a simple interaction or detailed marketing campaign.
Realizing that the recommended add-on is a perfect fit, the consumer then needs a seamless buying and delivery experience – leading to the creation of a revised automation-loop for continuous future engagement.
A Modern Day Customer Engagement Architecture
Leveraging a communications industry data integration framework, Salesforce, Apttus and Comptel are perfecting the personalized customer journey through a number of identifiable steps.
Designing

– B2C or B2B service design based on technical network and service capabilities, with input from market research created by product management.

Commercializing – Publishing of the product as a commercial offering, allowing a customer to discover, select and customize to their needs.
Ordering

– Submission of the selected and customized product as an order into the buying process. Incorporating CPQ processes (Configuration, Pricing and Quotation).

Delivering – Order processing and service activation plus an all-important notification to the subscriber for full customer engagement into the process.
Tracking – Continuous charging, metering and full reporting of service consumption by the subscriber, giving a 3600 perspective on contextual usage.
Analyzing – Contextual analysis on service usage trends of the subscriber leading to intelligent recommendation for product upsell and tailoring – customer alignment and engagement.
Growing – Perpetual engagement, offering continual recommendations to an individual and the option to buy. Perfecting the customer engagement process.
The Solution
The result is an eco-system primed solution for customer engagement and contextually-intelligent product recommendations, leading to automated customer lifecycle management. The solution is enabled by the Salesforce Communications Framework & Data Exchange, Salesforce Customer Success Platform, Apttus Quote-to-Cash solution and Comptel Intelligent Data Monetization & Customer Engagement Automation.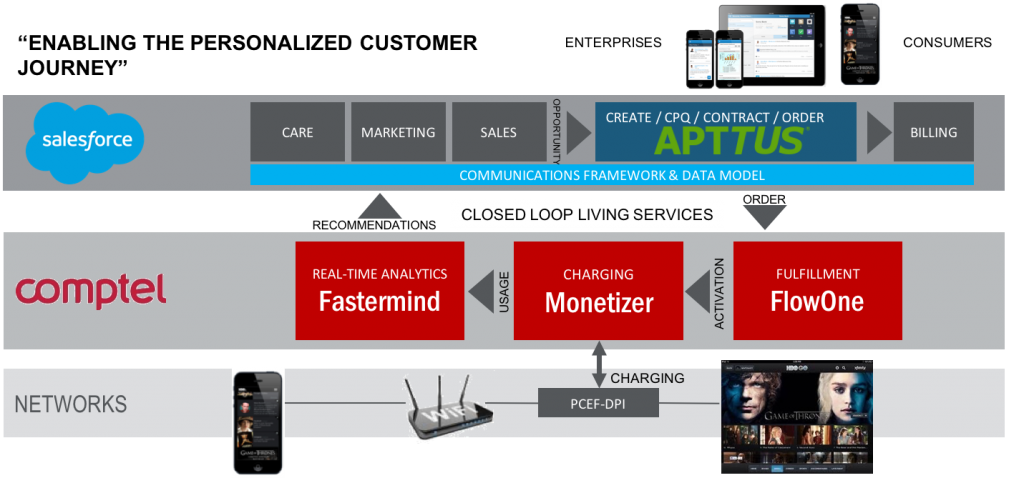 ---