Posted:
April 7th, 2017 |
Author:
Steve Hateley
|
Filed under:
Events
|
Tags:
digital transformation
,
FUDEX
,
FUDEX 2017
,
Saudi Arabia
,
STC
|
Comments Off

on STC FUDEX 2017: Vision 2030 Objectives for Saudi Arabia
The Kingdom of Saudi Arabia has set itself on a future-looking transformational journey for its people, the country and the region. Aiming to leverage itself as an investment power, backed up by a healthy portfolio of rich natural resources, the Kingdom will be a driver to connect African, Asian and European trade.
To fulfil the vision, it will be focusing on three key themes – a vibrant society, a thriving economy and an ambitious nation. The importance of the vibrant society is supported by strong historic roots and national identity, a good standard of living, family life and a supportive social and healthcare system. With a thriving economy, the KSA aims to provide "opportunities for all by building an education system aligned with market needs and creating economic opportunities for the entrepreneur, the small enterprise as well as the large corporation." But, it won't happen without ambition, so the Kingdom will look at improving efficiency and responsibility at all levels – starting with "an effective, transparent, accountable, enabling and high-performing government."
A number of programs monitored by strong governance have been designed to help KSA conquer their vision and more details can be found here: http://vision2030.gov.sa/en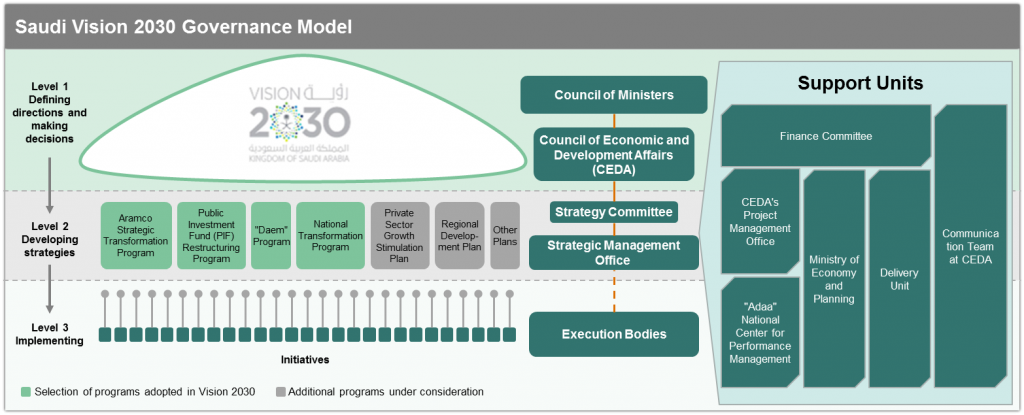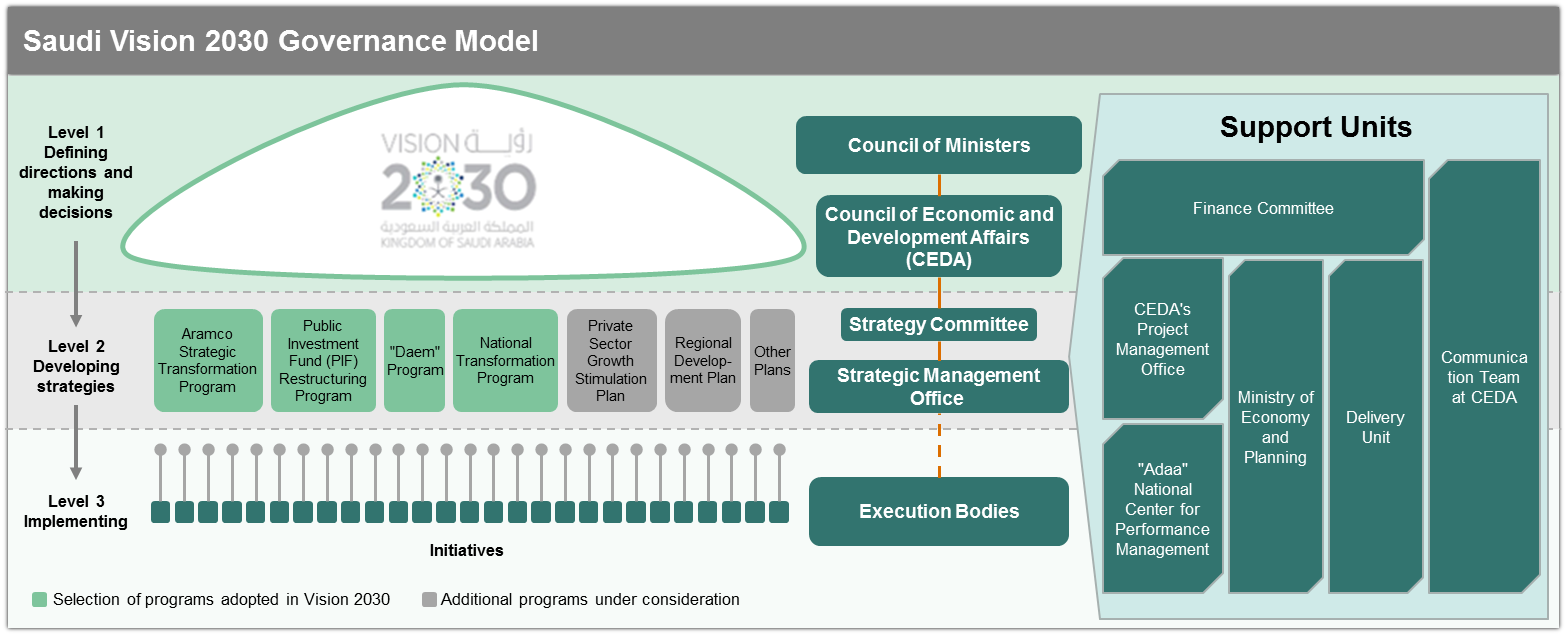 STC Role in Vision 2030
In 2016, Dr. Tarig M Enaya, Senior Vice President of the STC Enterprise Business Unit, was interviewed by a leading Middle East technology reporter at ITP.net. In that discussion, Dr. Enaya explained the role that Saudi Telecom Co. will play in Vision 2030.
"Digitisation is at the core of Vision 2030, essentially meaning we have a key enabling role to play," he said. "We own and operate the largest fixed and mobile networks in the Kingdom, meaning we can connect almost any populated location in the Kingdom. We have a 147,000km-long fibre optic network tying major cities together, interconnected with metro rings, and reaching smaller towns and villages. We patch cover some areas with microwave and other technologies. Our mobile network covers 96% of populated areas, with 85% of all populated areas having LTE 4G network coverage.
"More important for Vision 2030 is the integration between ICT services and how integrated services and solutions are delivered and supported," he continued. "To accelerate the growth of any service, you need good business practices and flawless business automation, a variety of different systems from different government agencies need to be interconnected together, and most important systems have to have very strict SLAs and high up-times.
"For us, Vision 2030 means we will continue to do what we have been doing since we merged the operations between our three business-to-business entities, the STC enterprise business unit, STC Solutions, and Bravo, but we will have to work harder and much faster.
Where things have dramatically changed over the past five years is how IT services are delivered, and the introduction of a cloud-based model and managed services methodology. When applied together to address customer needs and requirements, the two can create a very powerful mix. Virtualisation is the best way to manage IT hardware resource efficiency, but in its traditional sense, it means all the hardware is in one place, something that only the cloud can address."
FUDEX 2017
The Future of Digital Technology Exhibition 2017 (FUDEX) was inaugurated by the Minister of Communications and Information Technology, Dr. Mohammed I. Al-Suwaiyel and organised by Saudi Telecom alongside major international companies in the ICT sector. The event (aligning itself to the KSA Vision 2030) took place 28th-29th March at the King Abdullah Petroleum Studies and Research Center (KAPSARC) in Riyadh. Its focus was to introduce the latest network/IT technology through an exhibition and workshops to the various departments of STC and the industry.
Exhibition
The exhibition was representative of today's traditional telco thinking with a clear demarcation of network suppliers versus IT vendors. The network suppliers generally promoted around the key telco themes of 2016/17 – 5G, IoT and virtualisation, each being eager to promote their own proprietary solutions. The IT vendors focused specifically around application and data security, plus the enterprise deployment of IT applications in the cloud. The only obvious vendor-agnostic supplier of OSS/BSS offerings for telco services was Finnish independent software vendor Comptel.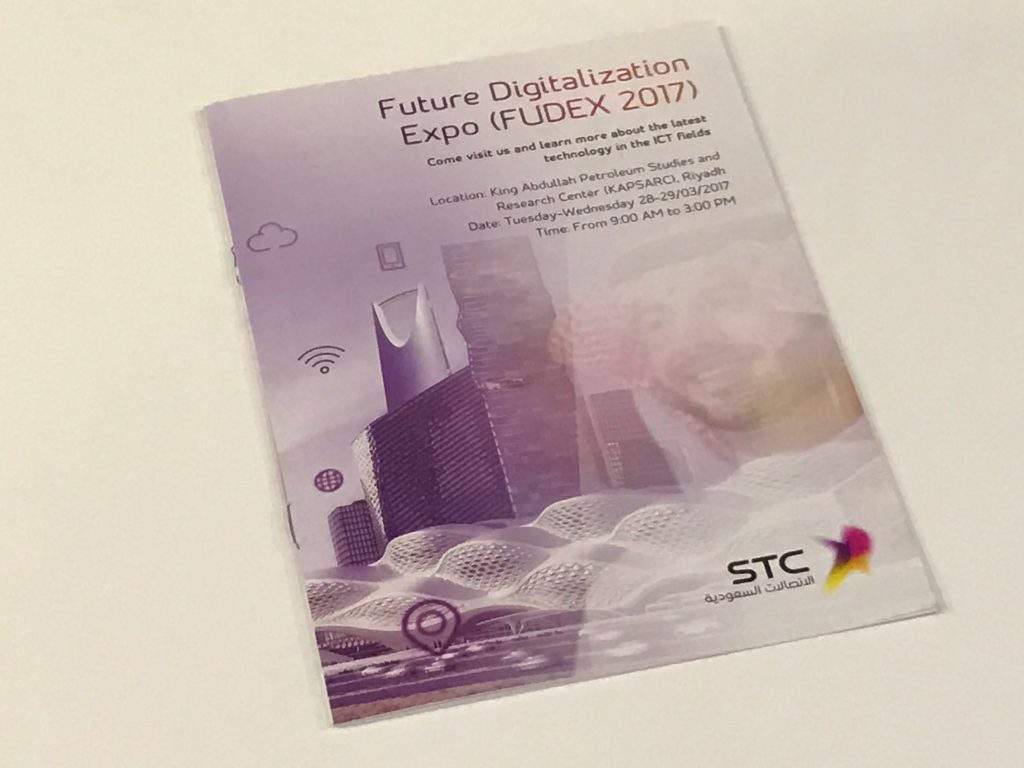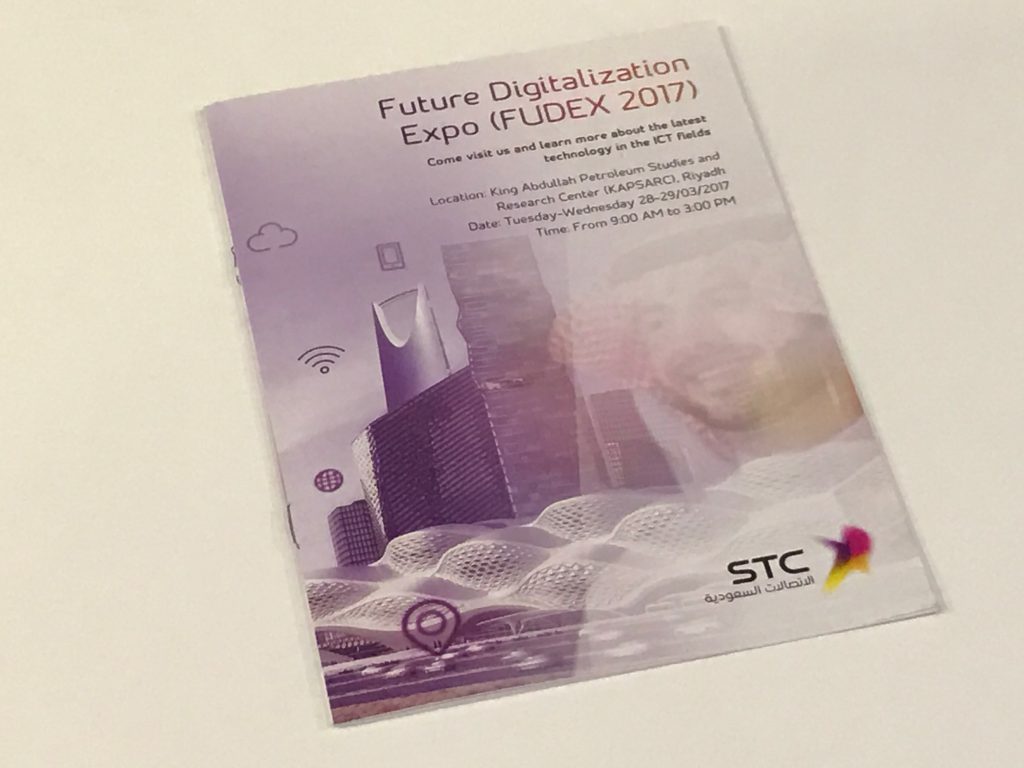 The one observation that emerged from being part of and studying the expo was a distinct lack of network and IT convergence perspectives. The network vendors were discussing their own particular flavours of infrastructure cloud commoditisation, and the replication of traditional network features as virtual network functions (VNF).  There was little attention paid by these suppliers to actual commercialisation of NFV services and the evolved processes needed. The IT vendors, on the other hand, demonstrated little to no appreciation that the CIO's role is due a considerable responsibility upgrade as the network moves to a data centre model. No doubt this will be a focus for STC in the coming year and next year's FUDEX will likely represent the convergence more strongly.
Ministerial VIP Visit
Along with a huge entourage, the exhibitors and attendees were treated to an Executive VIP visit from Minister of Communications and Information Technology Dr. Mohammed I. Al-Suwaiyel , STC Group CEO Dr. Khaled Hussain Biyari, and STC Technology & Operations SVP Nasser Sulaiman Al Nasser. The executives familiarised themselves with many of the exhibiting vendors being suitably impressed with the future technology and solutions being promoted to assist STC to address the challenges of the KSA Vision 2030.
Comptel at FUDEX
Since 2015, Comptel has been championing the vision of "Perfecting Digital Moments" alongside its thought-leading NEXTERDAY concept, which encourages the telecommunications industry to "Think Again, Think Ahead and Think Across" vertical industries. The concept aligned very well with the visionary objectives of KSA Vision 2030, especially around digital transformation and empowerment of its people through technology.
During the event, Comptel were promoting two Digital Journeys that telcos around the world are currently addressing. The "Digital Customer Journey" presents solutions to map out contextual engagement, service personalisation and customer experience to help the telco CMO transform and connect with valuable subscribers and consumers. The "Digital Service Journey" lays down a realistic approach to addressing the evolution of telco network services and IT/OSS. It considers the modernisation of telco operational processes and roles, the introduction of early-stage hybrid virtualisation technology, plus the move to full scale Digital Service Lifecycle Management™ for future-state NFV-enabled networks. This was the topic of the keynote workshop delivered by Comptel to an impressive audience from across STC attendees.
In addition, Comptel and STC announced a second initiative to nurture and develop young talent within Saudi Arabia. The first initiative in 2014 took a number of talented young STC IT professionals to various locations around the globe, educating them on the broader business and technology topics from the telecommunications industry. In 2017, STC and Comptel announced the "Hunt-a-Shark" initiative and signed a joint memorandum-of-understanding at FUDEX.
At the very heart of Vision 2030 lies innovation, youth enablement, cost optimisation and economic growth through new revenue sources. The "Hunt a Shark" contest is aiming to unlock these objectives by inviting university students from Riyadh to share their ideas about emerging digital platforms and artificial intelligence-driven economies. Finalists will compete to secure – or 'hunt' – seed funding, training and mentorship to support their ideas, based on business rationale, uniqueness, viability, relevancy and alignment of their idea with Vision 2030.
Summary
The Kingdom of Saudi Arabia are embarking on an exciting path with Vision 2030. They have the resources, the people and the ambition to get there and Saudi Telecom with its industry-leading partners will clearly play an important role to make the vision a reality.
---