Posted:
June 9th, 2017 |
Author:
Niilo Fredrikson |
Filed under:
Industry Insights
|
Tags:
CommunicAsia 2017,
customer engagement
,
FASTERMIND
,
personalisation
|
No Comments »
Artificial intelligence has become a hot topic in tech for many reasons, but one of the most important is its ability to improve customer engagement. At Comptel, we've seen first-hand just how significantly this technology can boost the effectiveness of customer campaigns.
Last month, I visited Singapore for CommunicAsia2017, an international conference for the ICT community. There, I shared some of the initial findings from campaigns using our FASTERMIND technology, which brings the power of AI to digital telcos in the form of customer engagement automation.
The example I shared compared the impact of using FASTERMIND for automatically triggering contextual marketing offers to customers in real time against traditional batch marketing methods. The comparison included three mobile data packages: one weekly pack for 1.5 gigabytes, a 50MB daily pack, and a 10MB daily pack.
In all cases, contextual marketing offers that were sent in real-time enjoyed significantly higher response rates compared to offers sent by the batch. The numbers speak for themselves: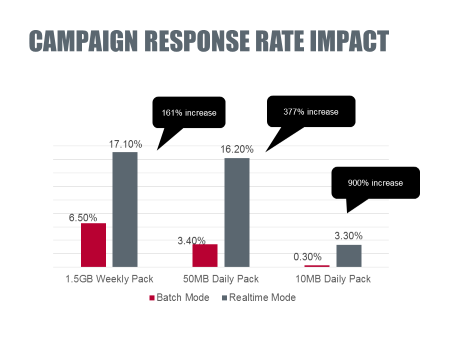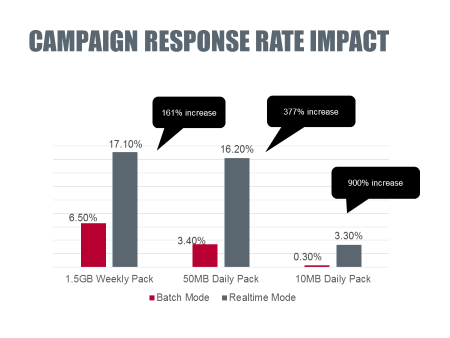 Why were the real-time results drastically better? FASTERMIND analyses in-the-moment contextual data about each customer to predict and recommend the best next action for the operator. In the case of mobile data plans, FASTERMIND could be tuned to automatically send specific packages offers only to those customers whose recent or current behaviours, activities, and historical personal preferences seem to indicate a preference for that package. Importantly, the offer is sent in real-time, at the precise moment when that customer's buying interest is at its peak.
As a result, this AI-driven form of real-time marketing is not only more efficient but also more effective than even the most specific segmentation-based batch offer. The two core tenets of AI – its ability to modify behaviour through learning, and then automatically act based on analysis – allows marketers to create campaigns that more closely match what customers want.
Our recent research report, The Power of Personal, showed that 55 percent of today's consumers want to receive personalised service, while 73 percent say the most important quality to good customer service is the feeling that a company values their time. FASTERMIND's AI-driven engagement satisfies these demands by enabling personal offers only when customers are likely to care about them, limiting disruptive and irrelevant offers.
Of course, omnichannel factors into this as well. AI will allow operators to create personal, real-time customer journeys across devices and a retail shop, which matches the omnichannel experiences most consumers already create for themselves. If your customers are already browsing on PCs, buying on tablets, and sharing on mobile, then your interactions with these customers must match their expectations across devices.
AI empowers that, letting you orchestrate ideal experiences across multiple touchpoints. Imagine a buyer shopping for a new phone on your website is interrupted and neglects to complete the purchase. Rather than letting that smartphone remain unpurchased in their digital shopping cart, you could send them a push notification the next time they walk by your physical retail location, reminding them to complete the purchase. To stimulate action, you could sweeten the deal with a promotional discount offered with a limited validation time.
Ultimately, real-time decisions, based on a bevy of data from different sources, create better experiences from customer acquisition, purchase, upsell, ongoing nurturing and retention. The result? Higher Net Promoter Scores, shorter time-to-market for new services, higher engagement, and much lower total cost of ownership.
That's the crux of the message I shared at CommunicAsia 2017, where I also participated in a panel discussion on the future of IoT in business. Both technologies – AI and IoT – offer tantalizing opportunities to reimagine how telco serves and engages with customers. Comptel is excited to lend our voice to those conversations at this and other important industry events.
Learn more about FASTERMIND, AI for digital telcos, on the Comptel website.
---